SDH multiplex structure
 Synchronous Digital Hierarchy (SDH) is a CCITT standard for a hierarchy of optical transmission rates. Synchronous Optical Network (SONET) is an ANSI (American National Standards Institute) standard for North America, that is largely equivalent to SDH.
Both are widely spread technologies for very high speed transmission of voice and data signals across the numerous world-wide fiber-optic networks.
SDH and SONET are point-to-point synchronous networks that use TDM multiplexing across a ring or mesh physical topology.
The main difference between both standards are the some header/pointer informations and the transmission rates.
The base transport module of SDH is the synchronous transport module with a transmission rate of 155,52mbps (STM-1), SONET uses OC-1 (~51mbs) as base module.
SDH/SONET transmission rates
 
PDH (USA)
PDH (Europe)
SDH
SONET
Bit Rate (Mbps)
Name
Name
Container
Transport
Container
Transport
40000
 
 
 
STM-256
 
STS/OC-768
10000
 
 
 
STM-64
 
STS/OC-192
2500
 
 
 
STM-16
 
STS/OC-48
622
 
 
 
STM-4
 
STS/OC-12
155
 
 
 
STM-1
 
STS/OC-3
140
 
E4
VC4
 
 
 
51
 
 
 
 
 
STS/OC-1
45
DS-3/T3
 
 
 
STS-1 SPE
 
34
 
E3
VC3
 
 
 
8
 
E2
 
 
 
 
6
DS-2/T2
 
 
 
VT6 (not really used)
 
2
 
E1
VC12
 
 
 
1,5
DS-1/T1
 
 
 
VT1.5
 
0,064
DS-0/T0
E0/D64S
 
 
 
 
SDH multiplex structure
 The SDH multiplex structure shown in the picture is defined in ITU-T G.707 and describes how low order signals are multiplexed into higher multiplex levels.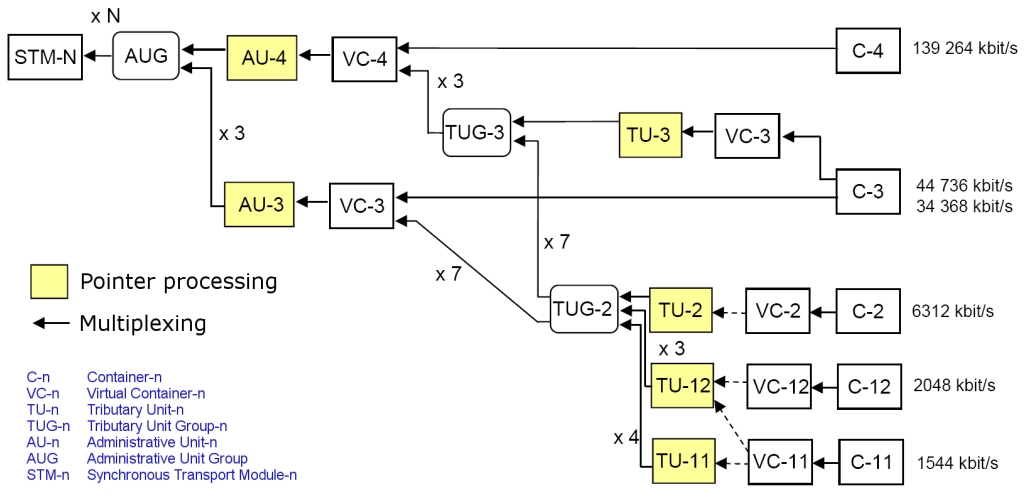 KLM values
Imagine you have a large number of E1 customer aggregated on a PA-MC-STM-1SMI (Cisco) or a PE-1CHSTM1-SMIR-QPP  (Juniper).
The low order signal is transported over an SDH network, through the númerous multiplex levels, and is terminated on your channelized STM-1 card.
For configuring the customers interface on the aggregation device, you need to know in which timeslot the customers E1 resides.
–> This position is specified by the KLM values.
Here's an overview for the KLM values of a STM-1:
| Timeslot | TUG-3 | TUG-2 | VC-12 (–> E1) | KLM |
| --- | --- | --- | --- | --- |
| 1 | 1 | 1 | 1 | 1.1.1 |
| 2 | 1 | 1 | 2 | 1.1.2 |
| 3 | 1 | 1 | 3 | 1.1.3 |
| 4 | 1 | 2 | 1 | 1.2.1 |
| 5 | 1 | 2 | 2 | 1.2.2 |
| 6 | 1 | 2 | 3 | 1.2.3 |
| 7 | 1 | 3 | 1 | 1.3.1 |
| 8 | 1 | 3 | 2 | 1.3.2 |
| 9 | 1 | 3 | 3 | 1.3.3 |
| 10 | 1 | 4 | 1 | 1.4.1 |
| 11 | 1 | 4 | 2 | 1.4.2 |
| 12 | 1 | 4 | 3 | 1.4.3 |
| 13 | 1 | 5 | 1 | 1.5.1 |
| 14 | 1 | 5 | 2 | 1.5.2 |
| 15 | 1 | 5 | 3 | 1.5.3 |
| 16 | 1 | 6 | 1 | 1.6.1 |
| 17 | 1 | 6 | 2 | 1.6.2 |
| 18 | 1 | 6 | 3 | 1.6.3 |
| 19 | 1 | 7 | 1 | 1.7.1 |
| 20 | 1 | 7 | 2 | 1.7.2 |
| 21 | 1 | 7 | 3 | 1.7.3 |
| 22 | 2 | 1 | 1 | 2.1.1 |
| 23 | 2 | 1 | 2 | 2.1.2 |
| 24 | 2 | 1 | 3 | 2.1.3 |
| 25 | 2 | 2 | 1 | 2.2.1 |
| 26 | 2 | 2 | 2 | 2.2.2 |
| 27 | 2 | 2 | 3 | 2.2.3 |
| 28 | 2 | 3 | 1 | 2.3.1 |
| 29 | 2 | 3 | 2 | 2.3.2 |
| 30 | 2 | 3 | 3 | 2.3.3 |
| 31 | 2 | 4 | 1 | 2.4.1 |
| 32 | 2 | 4 | 2 | 2.4.2 |
| 33 | 2 | 4 | 3 | 2.4.3 |
| 34 | 2 | 5 | 1 | 2.5.1 |
| 35 | 2 | 5 | 2 | 2.5.2 |
| 36 | 2 | 5 | 3 | 2.5.3 |
| 37 | 2 | 6 | 1 | 2.6.1 |
| 38 | 2 | 6 | 2 | 2.6.2 |
| 39 | 2 | 6 | 3 | 2.6.3 |
| 40 | 2 | 7 | 1 | 2.7.1 |
| 41 | 2 | 7 | 2 | 2.7.2 |
| 42 | 2 | 7 | 3 | 2.7.3 |
| 43 | 3 | 1 | 1 | 3.1.1 |
| 44 | 3 | 1 | 2 | 3.1.2 |
| 45 | 3 | 1 | 3 | 3.1.3 |
| 46 | 3 | 2 | 1 | 3.2.1 |
| 47 | 3 | 2 | 2 | 3.2.2 |
| 48 | 3 | 2 | 3 | 3.2.3 |
| 49 | 3 | 3 | 1 | 3.3.1 |
| 50 | 3 | 3 | 2 | 3.3.2 |
| 51 | 3 | 3 | 3 | 3.3.3 |
| 52 | 3 | 4 | 1 | 3.4.1 |
| 53 | 3 | 4 | 2 | 3.4.2 |
| 54 | 3 | 4 | 3 | 3.4.3 |
| 55 | 3 | 5 | 1 | 3.5.1 |
| 56 | 3 | 5 | 2 | 3.5.2 |
| 57 | 3 | 5 | 3 | 3.5.3 |
| 58 | 3 | 6 | 1 | 3.6.1 |
| 59 | 3 | 6 | 2 | 3.6.2 |
| 60 | 3 | 6 | 3 | 3.6.3 |
| 61 | 3 | 7 | 1 | 3.7.1 |
| 62 | 3 | 7 | 2 | 3.7.2 |
| 63 | 3 | 7 | 3 | 3.7.3 |